Salmon 2000 is a company specialized in organizing fly fishing and hunting trips in which everything has been studied so that you can relax and concentrate solely on enjoying your favorite hobby, in any of the best destinations around the world. A careful selection of the authentic hunting and fishing paradises that still remain in a few places on the planet, and that season after season, we make an effort to carefully review in order to always offer them the best value for money.
In order to be able to offer our clients a better service on their trips, equipping them with everything they needed, in 1998 we opened our Fly Shop Salmon 2000 fishing shop in Barcelona, ​​which over the years has become one of the benchmarks in fly fishing in Spain.
For this reason, and in order to meet the growing demand for our offers and products among fishermen in our country and beyond our borders, we now have the pleasure of presenting our completely renovated fishing gear store, where you can purchase all our products with the same information, comfort and guarantees as if you were in our "physical" store, located on Calle Petritxol nº12.
In our fishing business you will be able to find the best brands, always at the best prices and with the best offers, since we are exclusive distributors for Spain of international brands, each one a leader in its sector, such as Patagonia, Orvis, Simms, Matador, Costa , Guideline, Mithell, Abu Garcia, Berkley, Shimano Madeira... In addition, we are the preferred fishing store of renowned houses such as Hardy & Grays, among others.
In 2019 and expanding the market, we inaugurated sections specialized in outdoor, mountain and following the line of outdoor sports that are always respectful of the environment.
Another line of business and following the tradition of Calle Petrixol in Barcelona in winter, on the ground floor of the premises there is a surprising and traditional Christmas store with great Christmas products with brands such as Lemax or My Village or Luville.
At Salmon 2000 we organize guided fishing trips to the Pyrenees, Catalonia and Northern Spain. We also offer you the possibility of organizing your fishing holidays with the family in the area, as well as weekend reservations. You do not have to worry about anything, we offer you numerous possibilities to spend unforgettable days in kilos that fishermen and companions occupy the time according to their preferences.
We put all the experience and professionalism of our great trips at the service of organizing the closest tourism options, which require a minimum investment of time and money.
Carles Verdaguer - Salmon Group Director 2000
As a child, Carles had two big dreams: fishing and flying. Currently, he is a flight commander for a major airline. For his other great passion, he dedicated himself to visiting the best fishing paradises around the world, until he decided to professionally share his knowledge with those who felt the same passion and founded Salmon 2000. For this reason, in many of the destinations, Carles continues to travel with our clients, leading the expedition and if not, he stays in our offices supervising your trip and personally taking care that everything runs like clockwork so that each expedition can be a success of captures and memorable experiences. Every season he tries to find a new destination where you can accompany him as "fellow travelers" with truly exceptional conditions.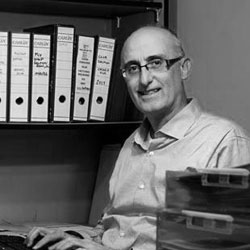 Joan Torrents - Financial Director
In charge of making the Salmon 2000 project viable as a whole, Joan is in charge of finding the balance of our budget accounts, which are what ultimately make it possible for this company to have years of work for being the best proposal in the wonderful of fishing.
In charge of establishing the investment possibilities in each section of our offer, and that allows us to always seek excellence both in the quality of our products and in our service. Also to launch new projects, combining innovation, safety and quality, as always in our years of experience.